Urban Bounty Rebranding & Website
Rebranding
When executive director, Ian Lai, first contacted us about rebranding their organization he recognized a couple of key challenges. First was the legal name of their non-profit – Richmond Food Security Society. As he described it "a mouthful" – and he wasn't talking about food.
The second was the state of their website content. It used very long drop menus – some with 18 links and 2 levels of fly-out menus. And that was for the content that actually appeared in the navigation. Years of content additions by numerous internal contributors had also resulted in dozens of orphaned pages. That is to say pages with no parent section. Without the absolute URL, there was no way to find them.
The site was also a blend of public-facing content such as how-to tips for gardeners, combined with content about the organization such as staff bios, AGM details, annual reports, etc. Funders and collaborative organizations would be looking for the latter, but gardeners looking for tips on weed control not so much.
What You Do vs Who You Are
We asked if they would be receptive to a name change as part of the rebranding. The answer was a hesitant "yes". We led them through some discovery sessions and looked at a few creative directions. In a nutshell we focused on separating "who they are" from "what they do". Each has a very distinct audience.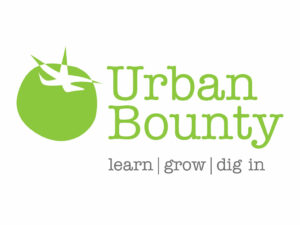 Part of what they do is fruit gleaning – harvesting fruit and berries from private gardens that would otherwise go to waste. This is no small task. In 2020 they harvested over 9,000 pounds! The group also manages 9 different community gardens within the city of Richmond, BC. This focus was what drove the new name "Urban Bounty". Our choice of American Typewriter for the font was reminiscent of putting up preserves with home-made labels. Merged with a graphic of the ubiquitous tomato it's a clean, simple new identity.
Combined with the hands-on gardening activities, another key service of this organization is education. In addition to fruit gleaning, some of the produce they harvest is donated to local food kitchens or prepared as meal kits.
The fusion of all these activities inspired the tag line "learn, grow, dig in" (and the double entendre "dig in" wasn't lost on us).
Reorganizing their site content proved a challenging and laborious task. Pages like Vegucation consolidated 18 separate pages in one with the use of accordion panels. And by building a site hierarchy and making use of parent and sibling pages much of the site navigation was covered with sidebar links. This let us eliminate fly-out menus and kept drop menu links to a maximum of 5. Overall we packed the same density of information into a much easier to navigate site.
We also avoided the use of stock WordPress themes and built the site from scratch using GeneratePress. This lightweight framework for WordPress avoided the bundling of multiple plug-ins that you get with most stock themes. These create a house-keeping chore when it comes time for updates and security patches. And you also skip the surprise of finding out that those bundled plug-ins don't come with free updates.
The end result is a very clean, responsive site that is completely scalable.