Flow Hive: A lesson in crowd-funding success
The Flow™ Hive Indiegogo campaign targeted $70,000 USD. It raised $12,226,451 USD in a single month and $2.18 million on it's first day — a new record for Indiegogo!
What made this campaign such a phenomenal success? Well, great product design for starters. Add in a healthy measure of public awareness for the plight of honey bees, and the exceptional quality of Flow's communications and you've got an unmatched media buzz guaranteed to go viral.
The Flow™ Hive developers Cedar Anderson and his dad Stuart, took a long hard look at the standard method of harvesting honey and how disruptive it was to the bees — not to mention the risk of stings, the need to smoke the hives, the mess, the energy wasted by the bees to rebuild honey comb, and a raft of other problems.
They also looked at the design of the Langstroth hive — the industry standard since Reverend Langstroth developed it in 1852. The time was ripe for serious innovation.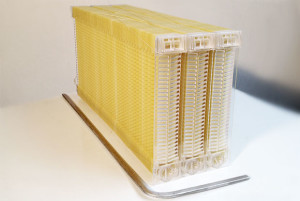 They came up with the first substantial design improvement in over a century — a hive design that let you see when the honey was ready and allowed you to literally turn on a tap and fill your honey jar. All without the need to open the hive, smoke the bees and tear apart the honey frames.
Then came the story telling. On February 15, 2015 the Andersons uploaded their pre-launch video to a new Facebook page, hoping to create a little buzz about their amazing innovation.
"The viral success of this video took us completely by surprise and laid the foundation for a launch that has exceeded our wildest hopes and made our dreams for Flow come true." says Stuart.
They didn't stop with Facebook. They shared it, Tweeted it, Instagrammed it, and created a YouTube channel to host the growing collection of videos. In short, they did an exemplary job of getting the word out — and media ran with it: Forbes, WIRED, Fast Company, Mashable, Entrepreneur, Digital Trends, Smart Company, C|net, … the list goes on. In a word — viral.
The Andersons made us smile watching enthusiasts pouring honey from the hive over their plate of pancakes. They made us laugh watching videos of Stuart napping in front of a Flow Hive with the description "Stu hard at work harvesting honey with a Flow™ Hive". And they were just downright charming with their Australian accents, sincere humility, and gratitude for our support. If you joined the campaign mailing list you would have seen a beautiful photo of Cedar with his partner Kylie and their first child, born March 31st. Talk about feeling part of the family!
Complement all those good feelings with a dose of fear and loathing and we're firing on all our emotional cylinders. Add the global awareness of serious problems for honey bees such as colony collapse disorder (CCD), lethal pesticides such as neonicotinoids from Bayer and BT infused GMO crops from Monsanto —  both harbingers of death for those precious pollinators — and you have a concerned, sympathetic, global audience.
These concerns and the raised profile of bee keeping helped nurture the recent proliferation of rural and urban bee keepers everywhere. Old hands and new-comers alike, familiar with their "little sweeties", were also well aware of the degree of love necessary in their labors. Who could ignore the hint of a major new development being carried on the media breezes?
This confluence of events created the amazing groundswell of interest that ultimately raised over 17,000% of Flow's fund-raising target in a one-month campaign on Indiegogo! That's a success story buzz that's going to take a long time to top.