Sadly, Leon Bibb died last Friday at age 93. For the past 15 years Kelly worked with Leon on all of his CDs, concert posters, and other projects such as the Step Ahead Foundation. The photos above were taken in our office in June 2013 at a scheming session for one of his unfinished projects — a songbook of his favourites titled Like a River. Left to right, Kelly Brooks, Bill Sample – Leon's long-time pianist and musical producer, Leon Bibb, and Helesia Luke – organizer par excellence.
I can't recall how many times Leon walked into our office saying "I've got an idea for a project". By far, the majority of those ideas came to fruition. His ineffable enthusiasm was a compelling force.
We just returned from Leon's memorial service. Per Leon's musical direction, he had a brass marching band worthy of Treme escort us to his interment, followed by anecdotes from so many people whose lives he touched.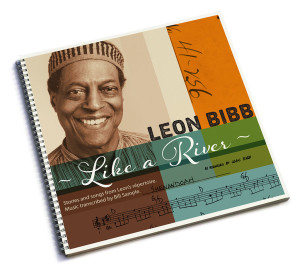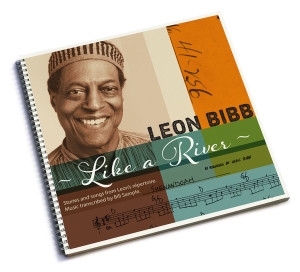 Bill Sample described Leon's last gig — a performance in Victoria's Government House where Bill and Leon were escorted in by a piper and introduced by the Lieutenant-Governor. Bill's recount was interrupted by a phone call from Leon's son, Eric Bibb, prompting a quip "That isn't the first time I've been upstaged by a Bibb".
Leon and Bill were both recipients of Queen Elizabeth's Diamond Jubilee Medal in 2013. We had the privilege of celebrating with both of them at Bill and Helesia's home in Vancouver where Leon sang with several other music icons including Jane Mortifee and Shari Ulrich.
Ann Mortifee shared tales of working with Leon in the 1968 original cast of Jacques Brel is Alive and Well and Living In Paris, and his ongoing inspiration for the past 47 years.
So many others shared tales of Leon's chestnuts and gaffs and his ability to roll through any and all of them. He was an amazing person, and will be missed.
For more on his life, work, and accomplishments: