Christine Reimer Website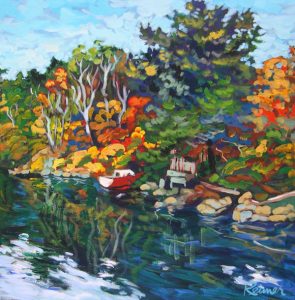 Christine Reimer is an accomplished contemporary Canadian painter.
She began painting professionally about 30 years ago. Her early works were bold, colorful interpretations of the Canadian landscape and, over the years, she cultivated a dedicated following for these pieces. Many are in private collections across North America, Europe and Australia.
Her passion shifted to abstracts in 2014. This major departure from her earlier work required a significant effort to reestablish herself in the contemporary art community. Galleries that represented her for the landscapes often didn't have clientele looking for abstracts. In many respects, Christine was starting her career all over again. Where to begin?
In early 2015 we created her new WordPress site. It's all about the paintings, so we chose a simple grid layout gallery theme and, as we always do, started custom modifications. It showcases the work nicely and lets visitors peruse the older work if they are interested in her history.
We are now creating online sections for gallery submissions. This will streamline that entire process. Many galleries are still requesting CDs of work sent via Canada Post.
I think we can improve on that.
We love Christine's new work and have two of her originals in our private collection. We also admire her heartfelt conviction to pursue a new direction that she's passionate about. Many wouldn't risk leaving a successful style and dedicated following behind, even if their hearts were no longer in it.
Ian and his team of experienced designers and technical support people are terrific to work with. They have been very quick to understand my wants and needs, and dedicated to making it happen as efficiently and painlessly as possible.

— Christine Reimer, Painter
Services
Theme selection
Custom coding
Image prep
SEO